---
One of the best things about the U.S. is that - despite our political differences - differences of opinion are OK. And Americans sure don't hesitate to express them. But, come summer and July 4, there's one thing all Americans agree on - it's time to celebrate the nation's very unique heritage, and very unique birthday. And Americans do it in grand style, with parades, marches, swirling colors, pageantry, barbecues, special music events, and some great street parties. Here are my Top 5 places for celebrating the Fourth this year!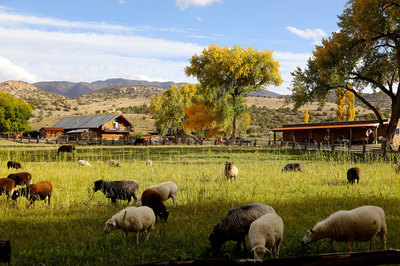 A beautiful pastoral scene at Canyon of the Ancients Guest Ranch
#5 - CANYON OF THE ANCIENTS GUEST RANCH, CORTEZ, COLORADO -
In the southwestern corner of Colorado, near the Four Corners and spectacular Mesa Verde National Park, sits one of the Southwest's most authentic guest ranches. Canyon of the Ancients Guest Ranch does not sit amidst the Colorado of the towering green Rockies. This is the Colorado of High Desert, of ancient cliff dwellings built into the sides of seemingly impossible-to-reach, sheer cliffs, and still littered with ancient tools and even bones in Ute Mountain Tribal Park. This is the Colorado of incredible moonscapes...the sharp mesas and stunning rock formations of Monument Valley are less than two hours away. Here, too, is Mesa Verde National Park, with ancient cliff dwellings and thousand-year-old petroglyphs of creatures and animals painted onto large rock-faces by Native artists. With magnificent herds of wild mustangs, and wolves and coyotes parading nonchalantly right in front of your car. With old wooden ladders leading into caves where families once dwelled, and where their cooking utensils and religious items often still remain. And of ancient archaeological sites in Crow Canyon Archaeological Center, where the archaeologists can shed light upon their fascinating profession and their precious discoveries. And there's nowhere better to experience this amazing part of the Four Corners than Canyon of the Ancients Guest Ranch. At Canyon of the Ancients, you can choose from six authentic log cabins - in sizes ranging from couples to families to small family reunions/groups - and no two the same. The emphasis is on personal service, and the ranch does not disappoint.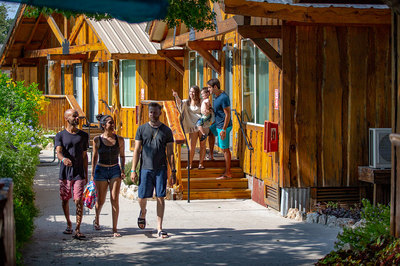 Riverbend Cabins are just one of the accommodations choices at Schlitterbahn Resort
#4 - SCHLITTERBAHN WATERPARK AND RESORT, NEW BRAUNFELS, TEXAS -
This family-owned property - one of an increasing number for the brand - has grown into one of the most popular family-vacation spots in America. The New Braunfels location has a beautiful natural setting, right on the banks of the spring-fed Comal River (so the water stays a refreshing 72 degrees) and sitting underneath a canopy of 100-year-old oak, cedar, and cypress trees. Below these trees are world-famous attractions ranging from slides and water coasters to wave pools to play areas to tube chutes to beaches, and, for the adults, swim-up bars with heated pools. And the accommodations are just as varied as the rides, ranging from modern lofts and luxury Treehaus suites (you gotta see 'em to believe 'em!) to vacation homes and classic hotel rooms. For spectacular views of the Comal River, consider the SchlitterStein Lofts and vacation homes in the original Resort at the Bahn. The joyous shouts coming from the rides add to the fun at the "Rock The Bahn Music Fest," which takes place at the park every Saturday in July and August. Texas, of course, is known for doing things BIG! So prepare to get wet!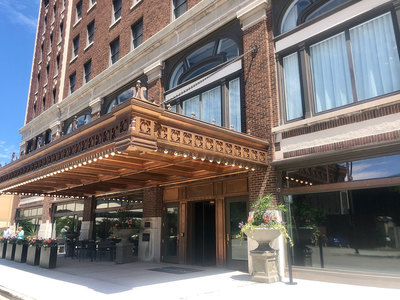 Hotel Northland has been a Green Bay icon since the Roaring Twenties
#3 - HOTEL NORTHLAND, GREEN BAY, WISCONSIN -
This landmark hotel is a Green Bay legend reimagined. Hotel Northland Green Bay originally opened in the spring of 1924 as the largest hotel in the state of Wisconsin. It first gained fame as the go-to hotel for all visiting teams playing against the local-hero Green Bay Packers football team (still the only professional football franchise in America owned by its local citizens). The Northland has been refurbished and revitalized in recent years, and now once again boasts the elegant style and feel of the grand old days, but also the newest luxuries and amenities of today. It's a true boutique hotel, with a unique charm and style all its own. Accordingly, this grand hotel is on the National Register of Historic Places. And it's a great place to stay while enjoying Green Bay's colorful Festival Foods' Fire Over the Fox, a day long July 4 festival/fireworks celebration along the Fox River. The festivities will include a run/walk, a Memorial Service honoring our veterans, food, music, and the largest fireworks display north of Milwaukee...and, of course, a lot of fun! Celebrations in the Upper Midwest are very special...very folksy and very friendly!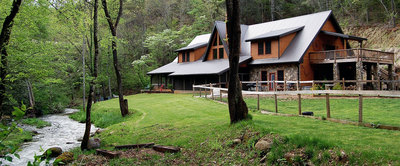 #2 - LANDS CREEK LOG CABINS, BRYSON CITY, NORTH CAROLINA -
Built on a mountaintop from which you can look across the Great Smoky Mountains into Tennessee, Lands Creek is one of those places with which you fall in love instantly...and never forget. It gets its name from the creek rushing just under the stilted cabins, surrounding sleeping visitors with the most beautiful nighttime lullaby they've ever heard. The cabins are rustic/luxury, filled with quality wood furnishings and bedding, along with artifacts and weavings from local craftspeople, and fascinating collections of "Americana" crafts. Most cabins have outdoor hot tubs, and stone-countered kitchens with modern appliances, and much of the construction was done by owners Robin and Sue Fronrath and family. Lands Creek is just a few minutes from the entrance to Great Smoky Mountains National Park, filled with dramatic waterfalls, lakes, and stunning wildflower-filled meadows like Cade's Cove. A twenty-minute drive down the mountain from the resort brings you to the "Old South" town of Bryson City, with atmospheric eateries, an interesting railroad museum, and the Great Smokey Mountains Railroad, which will take you on one of the most breathtaking train rides in America. And just as breathtaking are the views from the deck of your cabin at night, where a velvet-black sky is filled with shining swirls of silver stars.
And now ... my choice for the Top Place To Spend This July 4 ...
Blacksmith Inn offers tranquil surroundings and Midwestern hospitality
#1 - BLACKSMITH INN ON THE SHORE, BAILEYS HARBOR, WISCONSIN -
Door County, Wisconsin, a beautiful rural district jutting out into Lake Michigan, got its name from long-ago mariners who claimed that sailing their ships in this area was like being at "Death's Door." And the ample numbers of shipwrecked vessels lying just offshore are proof. Today, though, Door County is a wonderful window on a simpler time, filled with woodsy little villages with interesting shops and eateries, verdant green farmlands with big red silos and horses and cows grazing, friendly people, a real trolley, ...even a drive-in movie! That "simpler time" feeling continues at Blacksmith Inn On the Shore, a tranquil, charming old-time inn with only fifteen rooms, each of which has a fireplace, in-room hot tub, private balcony and captivating views of the harbor. The inn offers, as well, breakfast on your balcony while you take in the natural beauty and the boats in the harbor, with yogurt and cheeses produced on local farms, coffee roasted locally, and delicious Wisconsin cherries and apples grown in local groves. The village of Baileys Harbor, to which you can walk, is a great place to be on the Fourth, with family fun, activities for the kids, entertainment, parades, horseback riding, and plenty of great upper-Midwestern food, along with, of course, fireworks at dusk. And if you can make it into the village before 10 a.m. on that day, stop at the Fire Department for a great pancake breakfast.
Those are my Top 5 Places For July 4th? Where are you going to be spending the holiday?
Sign Up Free | The WPJ Weekly Newsletter
Relevant real estate news.
Actionable market intelligence.
Right to your inbox every week.
---
Real Estate Listings Showcase