---
If you live north of the Equator, winter is coming. And day after dreary day, our souls may begin to turn as cold as our bodies.
But there are some places where "winter" is just a word (or where it's summer when it's winter elsewhere!). Where the sun is warm, the drinks are cold, and the beaches are world-class.
Here are my Top Ten beach towns in which to get away from winter....
10) MYRTLE BEACH, SOUTH CAROLINA, USA
- OK, they still have (sort of) a winter here. But it isn't bad, and it doesn't last very long. And you can still do just about everything you can do in summer. Like golf. There are more than 100 courses to choose from in the area, many designed by luminaries such as Arnold Palmer and Jack Nicklaus. Heck, there are even some 50 putt-putt courses. There are a ton of family attractions. And you don't have to look hard to find your own personal beach - there's 60 miles of it.
9) TEL AVIV, ISRAEL
- Tel Aviv has always maintained a sort of charming psychological distance from the problems of the rest of the Middle East. Here, life is good, skyscrapers line the beach, and the sand is one big party-stage. Inland Jerusalem is cold and wet in winter, but in Tel Aviv, the sun still usually shines. Bars, discos, and clubs here often stay open all night. (Many of them were built in the Art Deco/Bauhaus era of the Twenties and Thirties, and are characterized by whimsical design, rounded corners, and porthole windows). The promenade by the beach is the city's place to see-and-be-seen. And there's nearly nine miles of beach on which to be seen.
8) WAIKIKI BEACH, HAWAII, USA
- Once, the idyllic beaches of Waikiki were the exclusive playground of Hawaiian royalty. Now, of course, Waikiki is lined with skyscraping resorts, where anyone - royalty or commoner - can frolic on one of the world's most beautiful beaches. (And can surf in one of the world's most venerable spots for surfers.) Several of the resorts actually go back (almost) to the time of Royalty, like the venerable Moana Surfrider Hotel, the original building (in addition to two modern towers) dating to 1901. And how many beaches have a volcanic crater (Diamond Head) jutting out into them?
7) BARCELONA, SPAIN
- There is sentiment among some Barcelonans to separate from Spain. But when it comes to partying at this magnificent beach, the sentiment is pretty much unanimous. Here you can boogie on a beach backed by an urban skyline with the whimsical touches of the noted architect (and local native) Antoni Gaudi. Barcelona sits right on the Mediterranean, and boasts 2.5 miles of white-sand beach, along with non-stop nightlife when the sun goes down.

6) RIO DE JANEIRO, BRAZIL
- Copacabana. The girl from Ipanema. Futbol on the beach (and everywhere else). String bikinis (and sometimes, no bikinis). Historic Colonial buildings edging the beach. Corcovado Mountain, with the Christ the Redeemer statue stretching his arms out over the city below. Sugarloaf Mountain, with its distinctive shape dominating the beach. Churrasco (barbecued meats) and feijoada (a stew with beans, beef, and pork) on the sand. For residents of Rio, called Cariocas, the beach is life itself...because so much of life revolves around it.

5) SYDNEY, AUSTRALIA
- Sydney's a booming, modern city that just happens to be surrounded by a bunch of beautiful beaches. But the most popular beach is Bondi, just a twenty-minute ride from downtown. Here, the beautiful people and the International Jet-Set go to spread their wings...and to look at the other beautiful people and International Jet-Setters. The surfers come for some of the best waves on the coast of a country that's known for great waves. And the average Aussie comes just to mellow out and relax, to breathe the refreshing sea air, and to spread out on his own private little spot.

4) ST. TROPEZ, FRANCE
- The St. Tropez area, on the French Riviera, actually has a bunch of beautiful beaches. This is where the beautiful people come to tan all day, and party all night. The see-and-be-seen parties here are legendary. And so are the beach clubs, live music, and fashionable bars, bistros, and restaurants. Although there are a few beaches appropriate for families, most people come here to hold a drink in one hand and a member of the opposite sex in the other...and to stay awake as long as they possibly can while doing it. And the town of St. Tropez is a beautiful reddish-orange Mediterranean village.

3) BALANGAN BEACH, BALI, INDONESIA
- Hey, it's Bali, right? Just saying the word evokes images of a tropical paradise. Of friendly people with ancient customs, traditional ceremonies, and a welcoming attitude toward visitors. Of lush green jungles teeming with species found nowhere else, and tropical fruits and vegetables bursting with color and flavor. Of swaying palms under crescent-moon skies dotted with stars. And of fine (sometimes white) sand beaches fringing the jungle on one side, and the ocean on the other, with autumn bringing extraordinary surfing, and any time of year bringing isolated lagoons and bays where you can stake out your own private piece of paradise. My favorite Bali Beach? Balangan Beach, which hasn't yet been discovered by the crowds.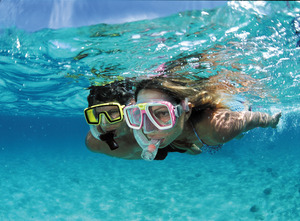 St. John, U.S. Virgin Islands (U.S. Virgin Islands Department of Tourism)
2) HONEYMOON BEACH, ST. JOHN, U.S. VIRGIN ISLANDS
- Honeymoon Beach isn't for those who prefer lounging around, and applying more tanning oil every hour or so. It's for active types! In these turquoise waters, you can get an up-close-and-personal look at the two coral reefs while snorkeling. You can rent a kayak and use arm-power to get a wonderful look at Caneel Bay. You can try to keep your balance while propelling a stand-up paddleboard. In fact, you can rent just about any type of water craft, and enjoy just about any type of water sport (equipment included). But not to worry. After all this activity, you can still find your own little spot on the white-sand beach and relax in a hammock or a lounge chair...or even on a raft!
And now - drum roll, please - here's my top pick...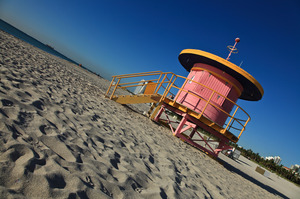 Only on South Beach could you have a pink lifeguard stand! (Courtesy Greater Miami Convention & Visitors Bureau)
SOUTH BEACH (MIAMI BEACH), FLORIDA, USA
- Where else can you find one of the world's most renowned beaches...back-dropped by the world's largest collection of 1930's Art Deco buildings, now filled with stylish hotels and restaurants and jazz joints? Where else can you find swank nightclubs and bistros that don't really get going until midnight, and don't stop going until dawn? Where else can you find bathing suits so small you practically need a microscope to find them? Where else can you find Lincoln Road, where the beautiful-people parade is non-stop when the sun goes down, and jazz and reggae and samba seem to waft from every doorway? And where else can you find Joe's Stone Crab, which has - in my humble opinion - the best stone crabs on Earth?
That's
my
list of Top Ten Beach Towns in which to warm up this winter. What are yours? Let the debate begin!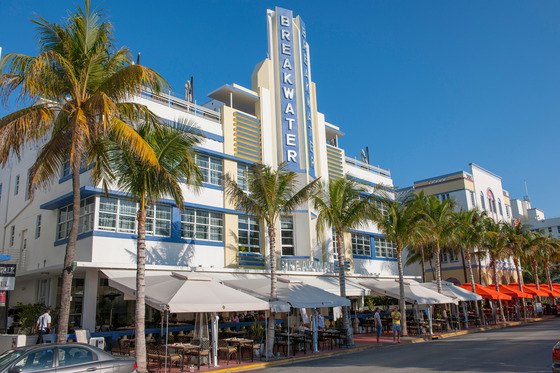 South Beach Art Deco District. (Greater Miami Convention & Visitors Bureau)
Sign Up Free | The WPJ Weekly Newsletter
Relevant real estate news.
Actionable market intelligence.
Right to your inbox every week.
---
Real Estate Listings Showcase