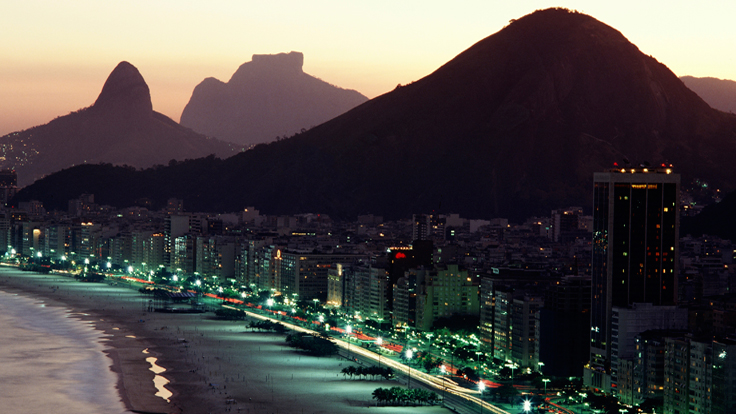 Growth Predicted for Brazil's Hotels
The hotel industry in Brazil is expected to show continued growth in the next year, after reporting eight consecutive years of sustained increases in revenue, according to a new report.
Brazilian hotels are still favored by investors as operating results show gains above inflationary rates, Jones Lang LaSalle reports in Lodging Industry in Numbers Brazil 2013.
"We're projecting sustained growth in Brazilian hotel performance, as the market remains a favored destination among international travelers," Ricardo Mader, executive vice president of JLL's Hotels & Hospitality Group in Brazil, said in the report. "While there are occupancy shifts occurring, the sustained demand coupled with the lack of new hotel development will allow Brazil's lodging market to hold its competitive advantage."
Last year, 5.7 million international visitors came to Brazil, which is 4.5 percent more than in 2011. Now the country is preparing for an influx of visitors over the next couple of years as it hosts the 2014 FIFA World Cup and the 2016 Rio Olympics.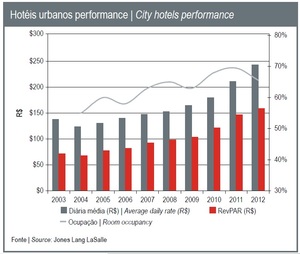 "The 26 hotel chain members of FOHB are investing R$7 billion (2012-2015) in the construction of new housing units," Roberto Rotter, president of the Brazilian Forum of Hotel Operators, said in the report. "That's why we can say that the lodging industry is prepared both for the upcoming major events and after these events have ended."
Investors in Brazil's hotel market are diversifying, but chain-affiliated hotel rooms in Brazil account for only 28.1 percent of all available rooms in the country, the firm says. The number is expected to increase as hotels chains like
Wyndham
and
Hyatt
have recently announced they each will increase the number of hotel properties in Brazil.
The firm reports 2013 numbers are already similar to the market's performance in 2012 where Brazilian hotel's revenue per average room (RevPAR) grew 8.8 percent compared to 2011. Average gross operating profit increased 7.9 percent in 2012 compared to 2011, according to the latest report.
Travelers in Brazil found average daily rates last year ranging from higher than R$380 for luxury hotels to lower than R$220 for economy and limited service properties, JLL says. Occupancy rates in the country were affected by softened economic growth in 2012, falling by 5.6 percent from 2011.
Overall, the firm expects revenue per average room to grow by five to seven percent in 2013.
"The performance of hotels in 2013 has shown similar trends to 2012," Clay Dickinson, executive vice president of JLL's Hotels & Hospitality Group, said. "Hotel investment in the short and medium term is expected to continue at a healthy pace in the country."