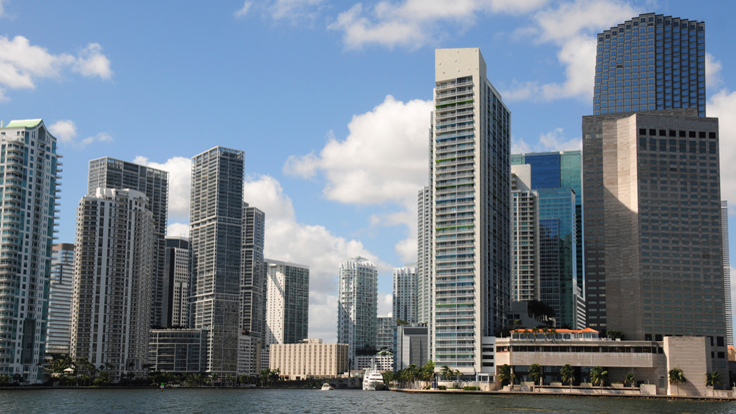 Battling Developers Send Miami Land Prices Soaring
Miami land prices are approaching record levels as developers race to find sites for new projects, hoping to capitalize on South Florida's latest sales boom.
Fortune International chief executive Edgardo Defortuna was surprised recently to find himself up against multiple bidders for 1.55 acres in Brickell. The site, home to the local headquarters of Northern Trust bank, was eventually sold for $64.1 million to Swire Properties, the Hong Kong developer building the nearby $1 billion Brickell City Centre.
Land prices are "really, really skyrocketing," Mr. Defortuna told
WPC News
. "I never thought in 2010 the prices for land would be what they are today."
Developers are rushing to launch projects into the pipeline, with
condo prices and sales hitting post-crisis records
. In the last two years, more than 150 projects have been proposed in South Florida, according to CondoVultures, which tracks the market.
Five years after the market collapsed, developers have sold most of the units in projects started in the boom years. Of the 22,000 condos built in greater downtown Miami, only 500 are unsold, CondoVultures reports.
Prices vary widely for developable land, but experts agree that the shift in the market has sent values to record levels. In some areas prices are up 30 to 40 percent in the last two years.
"Some of the recent sales have been at prices comparable to 2006 land values," said Jack McCabe, president of McCabe Research and Consulting.
Competition from developers has driven up the price of waterfront property to anywhere from $8 million to $12 million an acre, Mr. McCabe said. In downtown and Brickell prices are all over the map.
In June Related Group bought an undeveloped 1.37-acre site in Brickell for $32 million. The same site sold for $18.1 million in 2005 and fell to $9 million in 2009, the
Daily Business Review
reports.
In the Design District, land that sold for $300 to $500 a square foot three to four years ago is now selling for $1,000 to $1,500 a square foot, David Martin, co-founder of the Terra Group told
WPC News
.
In many cases interest from international developers - and international buyers -- is driving up prices, he said.
"We've seen an increase in value of land but some of that is in our view valid and some is not valid," Mr. Martin said. "Sometimes we see the foreign development community coming to Miami without a better understanding of what the proper land value should be."
Developers eager to build are finding it increasingly difficult to buy viable sites at a price that makes economic sense.
"We're looking all the time," said Meir Srebernik, partner in SMG Management, the developer backed by the investment vehicle controlled by the family of the late Roy E. Disney. "Right now there is a scarcity of land. What little there is, it's becoming unreasonably priced."
Condo prices are up more than 20 percent in the last year, but they are not keeping pace with land prices. The median price of a condo is about $185,000, still far below the 2007 levels of about $270,000.
Many of the new projects advertised in the market spotlight one bedroom apartments priced between $200,000 and $300,000, in part reflecting the developer's success buying land at the trough of the market. Related was an active buyer during the downturn, often purchasing parcels at distressed prices. The
company now has 11 projects with more than 2,500 condos
in development in south Florida.
The land issues are already affecting business plans. Some Miami developers are
starting to look farther afield
for projects. There is also concern that Miami's market may again see a flood of new condos, when the current round of projects are completed.
"I don't see demand continuing like the frenzy we've seen in the last six months," Mr. McCabe said. "The big question is, how many millionaires in South America will continue to buy condos in the Miami area?"
Additional reporting by Francys Vallecillo