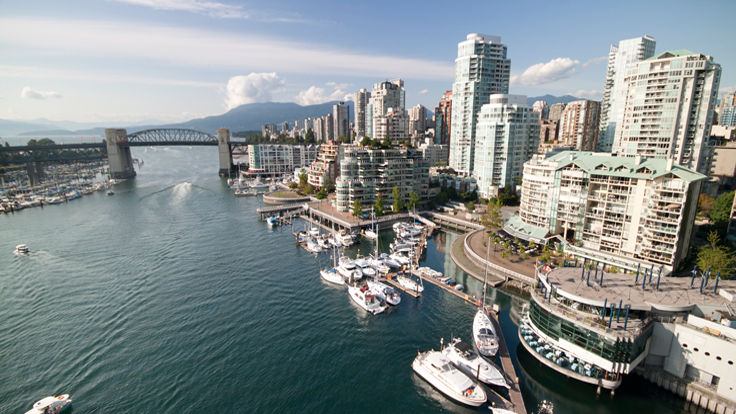 Vancouver Home Sales Climb 38 Percent
Home sales in Greater Vancouver were 38 percent higher in November, compared to last year, as the market enjoys consistent home sales and listing activity.
A total of 2,321 homes were sold in November, compared 1,686 sales last year, according to data from the Real Estate Board of Greater Vancouver.
For most of the year, the internationally popular city has been
outpacing last year's home sales
.
The number was 12.8 percent lower than last month, but remains just 1.2 percent below the 10-year sales average for the month.
"We've seen steady and consistent trends in the Greater Vancouver housing market for much of this year," Sandra Wyant, REBGV president, said in the report. "This year's activity has resulted in gradual and modest increases in home prices of approximately one per cent over the last 12 months in the region."
The benchmark prices for all homes in Greater Vancouver increased 1 percent from last year to $603,000 in November.
New listings for all detached, attached and apartment properties totaled 3,245 in November, increasing 17.7 percent from last year, but dropped 24.8 percent from the previous month. However, the sales-to-active-listings ration sits at 16.6 percent, considered a healthy market.
Canada's major cities have enjoyed healthy home sales throughout the year. In Toronto, home sales increased 13.9 percent in November, compared to last year. Single-family homes and condominiums accounted for almost three-quarters of all deals, according to the Toronto Real Estate Board.
"With National Housing Day having just passed, housing affordability is top of mind in the Greater Toronto Area and indeed nationally," Toronto Real Estate Board President Dianne Usher, said in the report. "Despite strong price growth and an uptick in borrowing costs this year, monthly mortgage payments on the average priced home remain affordable for a household earning the average GTA income."
The average selling price in Toronto was $538,881 in November, increasing 11.3 percent from last year.