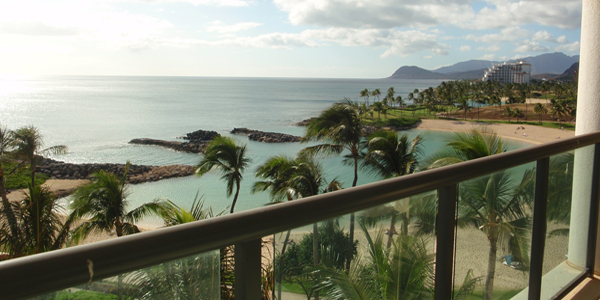 Marriott Vacations Securitizes $250 Million in Loans
Marriott Vacations Worldwide Corporation got a double dose of good news this past week.
First, the newly spun off publicly traded timeshare company announced it recently completed a securitization involving the transfer of a pool of approximately $250 million in vacation ownership loans. The loans were transferred to Marriott's affiliate Marriott Vacation Club Owner Trust 2012-1, which simultaneously issued approximately $238 million of notes.
Meanwhile, Marriott Vacations announced Marriott's Ko Olina Beach Club, located on a secluded lagoon within the upscale Ko Olina Resort in Hawaii, recently completed its fifth development phase. The latest phase delivered 132 new two- and three-bedroom villas to Marriott Vacation Club's largest resort in the Hawaiian Islands.
Just a 30 minute drive from Honolulu, the resort is situated on the main island of Oahu's western shore.
"Ko Olina Beach Club is a magnificent resort set in one of Oahu's prime beachfront locations," said Edgar Gum, Regional Vice President Hawaii Operations, Marriott Vacation Club. "The availability of these beautiful villas comes at just the right time when our occupancy will reach nearly 100 percent through the summer months and the attention to detail and relaxing views will make for many memorable vacation experiences for our owners and guests."
On the financial front, Marriott's recently securitized loans were offered in a private placement within the United States to qualified institutional buyers, comprised of approximately $210 million of Class A Notes and approximately $28 million of Class B Notes. The Class A Notes have an interest rate of 2.51 percent and the Class B Notes have an interest rate of 3.50 percent, for an overall weighted average interest rate of 2.625 percent.
Of the approximately $238 million in proceeds from the transaction (before transaction expenses and required reserves), approximately $101 million was used to repay amounts previously drawn under Marriott Vacations Worldwide's $300 million warehouse credit facility, and the remainder will be used for general corporate purposes.
Marriott Vacations Worldwide Corporation is the leading global pure-play vacation ownership company. Through a spin-off in late 2011, Marriott Vacations Worldwide was established as an independent, public company focusing primarily on vacation ownership experiences. Since entering the industry in 1984 as part of Marriott International, Inc., the company earned its position as a leader and innovator in vacation ownership products.
Marriott Vacations Worldwide, which entered the timeshare business in 1984, currently features more than 60 resorts and more than 420,000 owners and members. The company's three main vacation ownership brands Marriott Vacation Club, The Ritz-Carlton Destination Club and Grand Residences by Marriott.