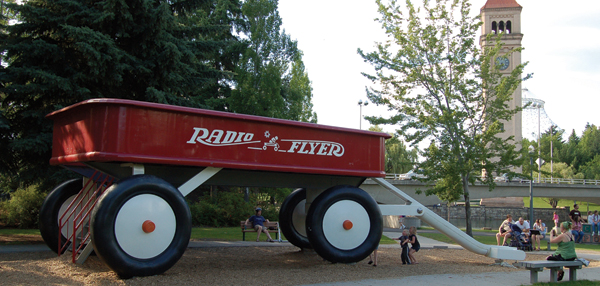 Spokane is Where Everything Old Is New Again
Spokane, Washington is one of those off-the-beaten-path places in which you find yourself wanting to stay longer.
This city of 200,000 in eastern Washington State is blossoming with restored historic neighborhoods, and old, once-dilapidated buildings that have been turned into trendy restaurants and chic boutiques. This city's dedicated to preserving what's best about it, and to bringing new life to old buildings and institutions.
In contrast to western Washington, this area gets a lot of sunshine. As a result, outdoor recreation is huge here. The Centennial Trail is a 37-mile trail to the Idaho state line, now part of the Rails-to-Trails system, and a great place to hike or bike. And the Spokane River - on which you can canoe or kayak or fish - runs right through downtown.
The heart of the city is Riverfront Park, a hundred wooded acres filled with interesting attractions and great picnic spots...and the river in the middle. These grounds were once an old, polluted rail yard. But - typical of Spokane - they've been transformed into a beautiful urban park that's now the city's central gathering spot.
Here, you'll find the Radio Flyer, a red wagon that brings you back to your childhood...except this red wagon is 12-feet high, 12-feet wide, and 27-feet long! And kids of all ages can scamper up to the top and play on it! Also in the park are a Turn-of-the-Century carousel, and the Riverfront Park Clock Tower, created by the Great Northern Railroad in 1892. The newest addition to the park is the Spokane Sky Ride, which takes you in a cable car over the thundering Spokane Falls.
There's great shopping downtown at the attractive River Park Square Mall, with an array of upscale shops, restaurants, and boutiques. And just outside the mall is leafy River Park Square, which, in a vibrant testament to Spokane's love of the outdoors, is surrounded by a series of sculpted, life-sized bronze runners.
The city's "preserve the past" ethic is evident in places like The Steam Plant. This beautiful old Industrial-Age structure heated downtown Spokane until the 1980's. Now it's home to one of the most unique eateries in America, Stacks Restaurant, a multi-level fantasy complete with exposed pipes, hatches, pulleys, red-brick walls, and machinery from that earlier age.
Other re-purposed structures include The Elk, once a drugstore in the historic Brown's Addition neighborhood. It's now an indoor/outdoor restaurant with a funky décor and great Northwest salmon. (The Elk was featured on The Food Network's "Diners, Drive-Ins, and Dives.")
Zola Bar is a popular after-hours gathering place - with good reason. It has the distinction of being made - totally! - of items found in local junkyards, including sawed-off rowboats used for booths, old signs to cover the holes in the walls, antique barstools, and drinking glasses from old railroad cars. And it's surrounded by colorful antique shops and collectibles shops (comic books!)...again, all in restored old buildings of red-brick and stained glass and bay windows.
Spokane is the headquarters of Red Lion Inns, one of the West's leading hotel chains. And one of the best places to stay here is the Red Lion Inn overlooking Riverfront Park and the Spokane River, with excellent restaurants, upscale amenities, a pool overlooking the river, and rooms with wonderful views of the city and the park.
Spokane's a city that has combined the charms of the past with the culture and the nightlife of today. And this is a place that's forever changing...and, as a result, forever exciting!