---
Li Ka-shing, Hong Kong's richest man for the past seventeen consecutive years with a reputed personal wealth of $33 billion, surprised analysts at the start of 2015 by announcing the restructuring of his vast business empire. His plans to merge all non-property assets of his two companies Cheung Kong Holdings and Hutchinson Whampoa.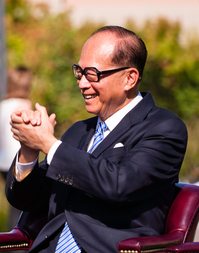 Hutchison Whampoa, a conglomerate whose interests include ports, retail, energy, infrastructure, properties and mobile networks. Through Cheung Kong Holdings, his publicly traded investment company, Li also oversees a real estate portfolio that includes residential and commercial properties, as well as hotels and industrial space.
They will continue to trade in Hong Kong but significantly, both will now be incorporated in the Cayman Islands.
Moving the bulk of his substantial wealth from Hong Kong to the little-known Caribbean tax haven will increase transparency say analysts and shares in Li's companies immediately rose by 14 per cent following the announcement.
As markets roared their approval of his reorganization, the news was also greeted favorably nine thousand miles away in the Cayman Islands. Grand Cayman, the largest of the three islands in the northern Caribbean chain is already the chosen domicile of over 40 per cent of Hong Kong-listed companies and this public endorsement from one of Asia's most wealthy men further enhances its legitimacy in offshore financial circles.
Billionaire Investment
"Hollywood has created the image of people hiding money in the Cayman Islands but you try opening a bank account here if you think this is the place to hide your ill-gotten gains," says Nick Joseph, Cayman Islands Attorney of Law. "It takes far longer and involves more background checks than opening one in Switzerland. Among critical, professional circles Cayman is highly regarded as a safe and reputable jurisdiction."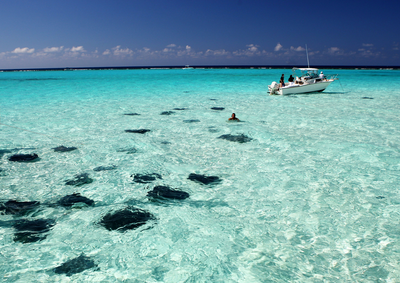 Stingray City, Grand Cayman - Cayman Islands Department of Tourism
One billionaire who has already invested heavily in the Caymans is Ken Dart. The Michigan-born businessman whose family wealth originally came from the manufacture of Styrofoam cups is considered the second largest landowner in Grand Cayman behind the government. His investments there include a Kimpton Hotel, an impressive new highway, the Dart yacht club and Camana Bay, a meticulously designed 500-acre site with schools, offices, restaurants and shops that is wildly popular with Cayman's expat community.
Cayman's Financial Standing
Cayman lies south of Cuba and northwest of Jamaica and is a British Overseas Territory with a governor appointed by Queen Elizabeth. The islands have come a long way in a short time. The population was 10,000 in the 1970s and now numbers 56,000, half of whom are expatriates. There is no tax on income, corporations or capital gains and no death duties or VAT and along with the wonderful Caribbean climate, world-class sandy beaches and arguably the best diving in the world, explains the appeal for many of its residents. Eighty per cent of tourists to Cayman are from the US but residents come from 130 different nationalities.
Cayman is the world's sixth largest banking centre and comes with a top-drawer AAA financial rating. It has the highest standard of living in the Caribbean with one of the lowest crime levels. Security is a major draw for those who move there says Charles Weston-Baker of London-based global real estate firm Savills.
See Related Story: Cayman Island's $700 Million Camana Bay Mixed-Use Project Gaining Traction Amongst Hedge Fund Crowd
Property options range from small inland houses to luxurious beachfront apartments. The most expensive areas are in the west of Grand Cayman along Seven Mile Beach where prices reach $1,300 a square foot.
The Watercolours Residences is a good example. A newly completed complex with 60 apartments over nine floors - the highest residential building in the Caymans - on Seven Mile Beach, it has wonderful sea views, communal facilities that include an exceptional gym, beachfront pool and constant security monitoring. The final 12 three and four-bedroom units start from $3,900,000 for 3,700 square feet.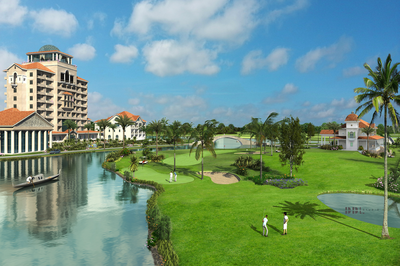 Grand Cayman has three golf courses: one 18-hole and two 9-holes. A fourth is planned at Ironwood, designed by Arnold Palmer-designed course. The sports and real estate development on 600 acres in the eastern district of Grand Cayman has freehold apartments, villas and land plots from $250,000.
The architecture on Cayman is mostly uninspiring, largely because much of the housing stock was hurriedly rebuilt after Hurricane Ivan devastated the island in 2004. One example of cutting-edge architecture however is Camden House close to the holiday resort of Rum Point at the extreme eastern end of Grand Cayman. Designed by British architect Nick Tye with straight lines and expansive glass, it has four bedrooms, a large pool and a garden that leads to the sea and is for sale at $6,850,000.
Cayman Tourism
The Deputy Prime Minister and Minister for Tourism, Hon. Moses Kirkconnell, acknowledges the importance of the island's strong infrastructure in attracting visitors. Flight access from around the world is improving and contracts for a new airport terminal, a $50 million investment, have just been awarded. The latest arrival figures in the Caymans are expected to be up 12 per cent against a regional average increase of 5 per cent says Kirkconnell.
"Our policy is to make the Cayman Islands a world-class financial destination," says Mr. Kirkconnell. "Sand, sea and sun, that's what you get throughout this Caribbean region but Cayman takes it further with excellent roads, hospitals and security."
And what, for him, is the most frustrating misconception that the world has about the Caymans?
"That we are a bunch of pirates!" he laughs. "Seriously, I do think people are starting to realize that we are very sophisticated. We are so little known globally. We need to get the Cayman name out there."
Sign Up Free | The WPJ Weekly Newsletter
Relevant real estate news.
Actionable market intelligence.
Right to your inbox every week.
---
Real Estate Listings Showcase