---
Retail properties predicted first to rebound, once pandemic is contained

According to JLL in its Macau Year-end Property Review 2020, Macau's overall property market experienced a relatively moderate contraction in 2020, thanks to its success in having Covid-19 under control locally and the reopening of the Macau-mainland China borders that enables the city to benefit from mainland China's dual circulation economic plan.

In 2021, the retail property market is expected to recover first once economic activities and inbound/outbound tourists are back to normal when the pandemic is contained with the roll-out of the Covid-19 vaccine.

According to the DICJ statistics, Macau's gaming revenue recorded at MOP 60.442 billion in 2020, a significant drop of 79.3% y-o-y. Macau' gaming revenue fell for the 15th consecutive month in December since October 2019, back to the 2006-2007 levels. The VIP and mass markets also recorded a fall in their revenues. The revenue of the VIP market fell by 81.9% y-o-y to MOP 18.653 billion in the first three quarters of 2020, accounting for 48.3% of the city's total gaming revenue.

Macau's GDP totalled MOP 129.82 billion in the first three quarters of 2020, down 59.8% y-o-y. The expenditure-based GDP showed that the fall was mainly due to the contraction of fixed capital formation, private consumption expenditure and balance of trade, which reduced by 15.5%, 18.1% and 104.6% y-o-y respectively. It's the first time for Macau to see a trade deficit since 1982. During the same period, government consumption expenditure rose a bit by 13.5%, due to the increase in spending on anti-pandemic relief measures.

According to the DSEC statistics, Macau's total visitor arrivals totalled approx. 5,237,400 as of November 2020, down 85.6% y-o-y. The majority of visitors were from Mainland China, accounting for 79.2% of Macau's total visit arrivals, while the number of visitors visited Macau under the Individual Traveller Scheme (ITS) fell to 38.7%. As of end November 2020, the total supply of hotel rooms in Macau recorded at 34,100, down 8.6% from last year. The cumulative occupancy rate of hotel rooms in Macau recorded at 26.1%, while the average length of stay of guests was about 1.6 nights.

The labour market saw a dramatic change in 2020. According to the DSEC statistics, the unemployment rate rose to 2.9% in November while the overall median monthly income dropped to MOP 15,000 as of end November. The number of imported labour in Macau reduced to about 180,962 as of end November 2020, down 7.9% from end 2019. The total resident deposit in Macau recorded at MOP 666.99 billion as of end October 2020, slightly up by 0.5% from end 2010.

"Impacted by the Covid-19 pandemic, all property sectors experienced an adjustment in their price levels. If the pandemic can be under control globally in 2021 and the low interest rate environment persists, Macau's property market hopefully will see a recovery in 2H21. However, the unemployment rate and underemployment rate will continue to cast a shadow on the outlook of the city in the short term as a number of livelihood issues may occur when the government's anti-pandemic relief measures and subsidies are no longer available, ," says Mark Wong, Director of Valuation Advisory Services at JLL Macau.

Macau Office Market

In the first 10 months of 2020, a total of 4,717 new incorporations registered in Macau, down 9.6% y-o-y. Badly hit by the economic downturn and the pandemic, demand for office spaces was weak. Grade A office rental remained stable supported by the lack of new supply. Tenants in general renewed their leases with a 10% rental increase. Leasing demand mainly came from financial institutions and insurance companies. One of the most notable leasing transactions in 2020 was recorded in Finance and IT Centre of Macau where a boutique office unit was taken up by a PRC-based financial company at a rental 15% higher than the market rate. According to JLL Macau Office Index, the rental values for the overall office market and Grade A office market fell by 7.3% and 1.8% y-o-y respectively in 2020.

In the sales market, the number of office transactions fell by 16.4% y-o-y to a total of 127 as of end October in 2020, as shown by the DSEC statistics. As of end 2020, the overall office vacancy rate rose to 10% from 7% in end 2019; the capital values for the overall office market and Grade A offices fell by 1.2% and 0.4% y-o-y respectively. The yields for the overall office market and Grade A office market recorded at 2.8% and 3.1% respectively.

"Two to three new office buildings are now in the pipeline to bring new supply to the market in the future. As these buildings are in smaller scale and located in different areas, they haven't caused any direct impacts to the existing Grade A offices so far. We observed that some commercial properties in the market have been converted and used as co-working spaces. In fact, with the post-pandemic new normal, flexibility, safety and sustainability have become corporates' top priorities for workplace environment," says Oliver Tong, Head of Leasing at JLL Macau.

Macau Retail Market

According to the DSEC statistics, the total retail sales fell by 52.2% y-o-y in the first three quarters of 2020 to MOP 26.987 billion. All retail categories saw a drop in their sales. Due to the significant decrease of total visitor arrivals, the total expenditure by tourists contracted dramatically and made up only 11.7% of the total retail sales. Tourism-dependent categories all experienced a drop in their sales value by over 50%. However, the sales value of supermarket rose by 9.4% y-o-y, supported by the increasing domestic demand.

The sales market was quiet with very few transactions. Only 256 retail property transactions were recorded in the first 10 months of 2020, down 32.3% y-o-y. The leasing market saw a more significant adjustment. Some of the retail spaces in core Senado Square area were taken up by tenants at rentals 50-80% lower than that paid by the previous tenants. Demand mainly came from retailers of household commodities, clothing and cosmetics. The retail leasing market in the neighbourhood areas remained stable, with some shop spaces having a 5-10% increase in their rentals. According to JLL Macau Retail Index, the overall retail rental values fell by 27.8% y-o-y while overall retail capital values declined by 27.6% y-o-y in 2020. The overall retail yields for core areas maintained at around 1.7% as of end 2020.

"The current vacancy rate and future supply of retail properties have reached a high level in the recent year. Retail rents are expected to face pressure in the short term. On the bright side, Macau's retail market has bottomed out as the Covid-19 pandemic has been under control locally and mainland Chinese visitors have resumed travelling to the city. There are more retailers enquiring about retail leasing spaces in the core areas though they remain very cautious. According to market information, the retail sales of luxury goods is generally expected to see the biggest rebound. In fact, it's been proved that the consumption power of local people remained strong amid either the recent Covid-19 pandemic or the past economic recessions. Despite the lack of 30 million visitor arrivals in 2020, the spending by 700,000 local residents still managed to make up 50% of the total retail sales value that Macau could achieve pre-pandemic. Retailers for sure will pay more attention to local demand in the future. In the meantime, some retailers expanded their business to online platform to attract more customer interest and enhance turnover," says Oliver Tong.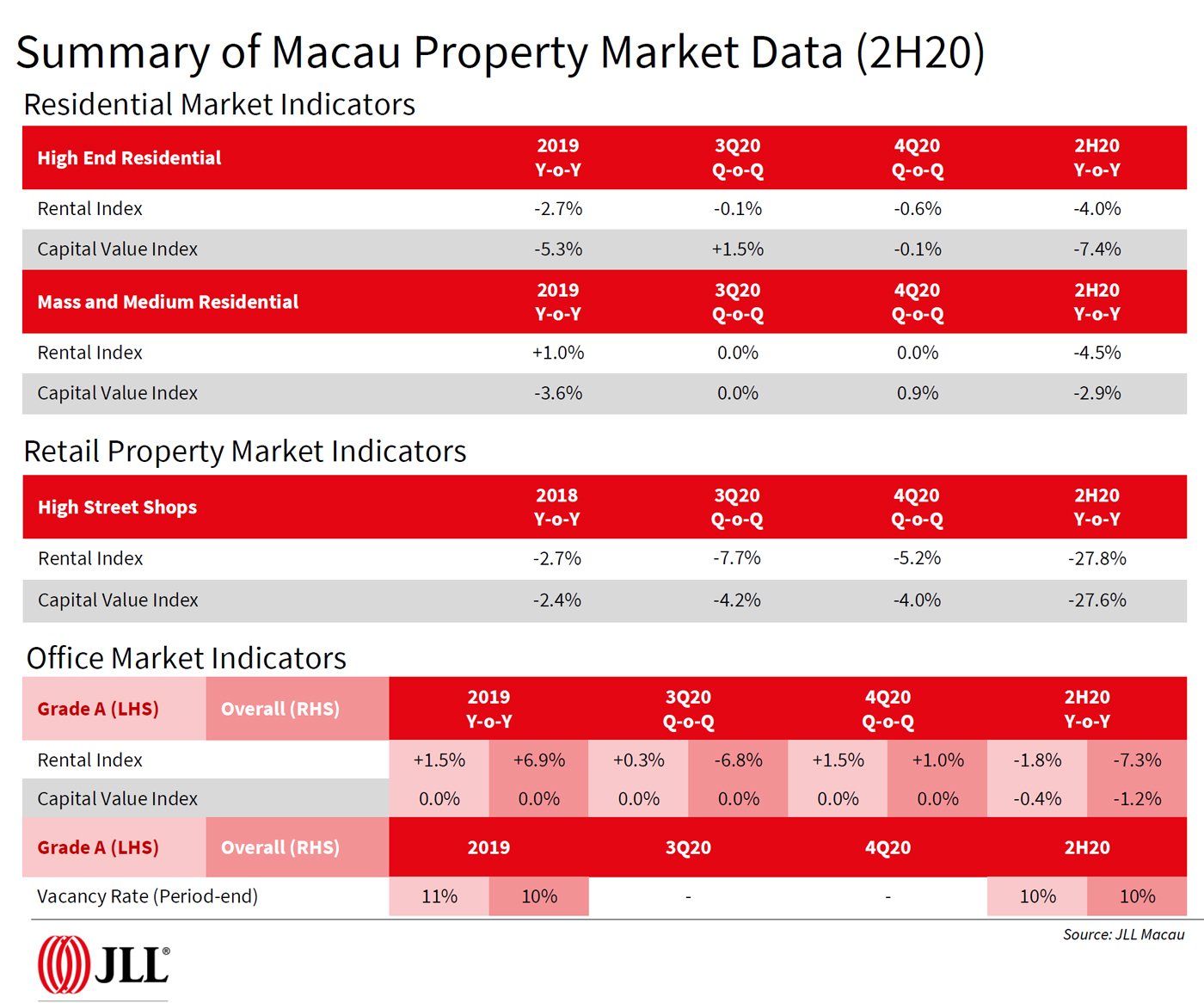 Sign Up Free | The WPJ Weekly Newsletter
Relevant real estate news.
Actionable market intelligence.
Right to your inbox every week.
---
Real Estate Listings Showcase